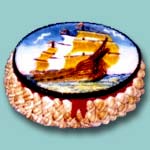 (JB0009) Jewelry box made of resin in painted sailboat.
copyright © 2000
JUMBO PACIFIC
All rights reserved • powered by
JUMBONET®
Sculpted or polished gifts to reveal natures most beautiful paintings. Jewelry Boxes and distinctive gifts for women or men. Wedding, anniversary, Christmas presents or Valentine's day gifts for jewelry storage in Jewelry Boxes.